La Lozere

Le réseau de la Lozère - Ligne de Sainte Cécile d'Andorge - Florac
Initialement, le plan Freycinet prévoyait la construction d'une ligne à voie normale rejoigant Anduze à Florac. Plus tard, ce projet, converti à la voie métrique, était censé aller jusqu'à Mende. Mais finalement, après diverses vicissitudes - dont le refus du PLM de la concession d'une ligne à voie normale - c'est le tracé Sainte Cécile d'Andorge - Florac qui fut retenu, en voie métrique. La construction débuta ... seulement en 1904 ! La compagnie des Chemins de Fer Départementaux (CFD), forte du succès du Vivarais, fut chargée de la construction et de l'exploitation. La ligne fut inaugurée en 1909. / Although the Freycinet plan was initialy forecasting a standard gauge line from Anduze to Florac, later, the project has been converted in a narrow gauge line, from St Cecile d'Andorge to Florac. The line has been opened in 1909.
Pour de plus amples informations se réferrer aux ouvrages spécialisés tels que: / For more information, see:
"De Florac à St Cécile d'Andorge" de Joel Royer (Editions du Cabri)

"Transcevenol" de Pascal Bejui (La Regordanne).
La ligne fut construite selon les principes mis au point pour le Vivarais (d'ailleurs elle était considérée comme une antenne du réseau du Vivarais, en dépendant techniquement et administrativement). Elle faisait 48 Kms, et culminait à 788 m, au Rouve-Jalcreste. / The line was built using same principles than for the Vivarais (it was considered as a sub-railway); the length was about 48Kms and the biggest altitude was at the Rouve-Jalcreste pass, at 788m.
Desservie notamment par des 120+020 T Mallet, et surtout par les célèbres autorails "De Dion", son trafic était assez faible (surtout des bois pour les mines environnantes), et elle n'a pas survécu aux années 60 (fin du service en mars 1968). Hélas, une tentative de reconversion en touristique n'a pas débouché, les mauvaises langues arguant que cet échec était surtout du au fait que le département voulait récupérer par endroit l'emprise de la voie ferrée pour élargir la route nationale ... / The most famous rolling stock was the Mallet 120+020T, and the De Dion railcar. The line has been abandonned in 1968, because the trafic was more and more low (some wood for the mine). Unfortunately a project for a touristic railway has not been succesfull (perhaps because in some location the railway track needed to be suppressed to enlarge the local road).
Description de la route MSTS "Lozère": / The MSTS "Lozere" route:ici/here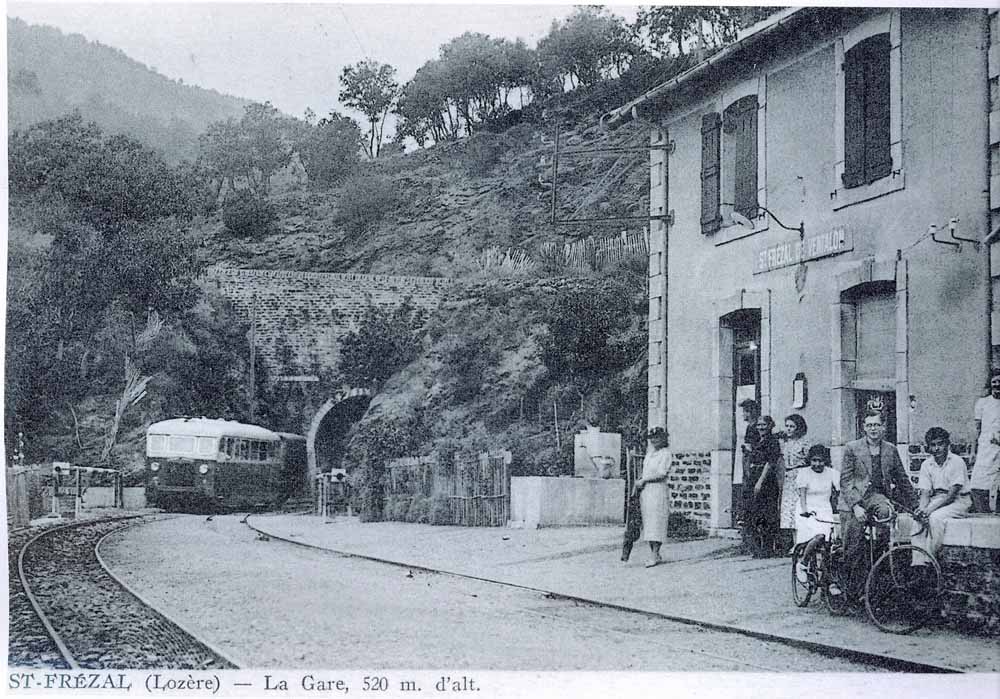 ---

La route MSTS de la Lozère
Le relief a été généré à partir d'extraction de fichiers de coordonnées DEM (faites avec DEMEX), donc le positionnement géographique des voies est à peu près exact (au contraire du Vivarais !). / The landscape has been generated from DEM extraction, using DEMEX. Therefore the tracks are more or less at the xtact coordinates, at the contrary of the Vivarais!
La route MSTS représente la ligne CFD Sainte Cécile d'Andorge - Florac, le tronçon de la ligne des Cévennes (le "Transcevenol") Ales - Saint-Georges d'Aurac, les lignes St Georges - Le Puy, Le Puy-LaVoute sur Loire, Le Puy - Langogne aisni que La Bastide - Mende / The route consists of the CFD line from St Cecile to Florac, and also the "transcevenol" SNCF line (Alès-Saint-Georges d'Aurac, with also St Georges - Le Puy, Le Puy-LaVoute sur Loire, Le Puy - Langogne and Mende - La Bastide)
La ligne des CFD ayant été abandonné en 1968, la route est donc censée reproduire la région pendant les année 60 ... / As this railway has been abandonned in 1968, the route is supposed to show the lozere as it was at the end of the sixties
Elle reprend de nombreux objets du Vivarais, et "emprunte" beaucoup d'objets à A. Cheuton (Douce France et Morvan), à R. Morot, P. Gauriat et P. Grando, D. Choquet, JC Gendre pour les bâtiments du massif central, ainsi qu'à d'autres talentueux créateurs (notamment italiens et espagnols). Et bien sûr tout le travail de D. Ardennes sur les saisons du Vivarais et l'amélioration de son décor devrait se retrouver ici ! Et Fulvio Oddone a réalisé de nombreux bâtiments de la partie CFD, ainsi que des ponts et le tunnel du Cros avec portes ouvrantes ! sans oublier l'autorial De Dion et le locatracteur LT62. Je les remercie tous ici. / The route uses many objects from the Vivarais route. Many thanks to A. Cheuton (Douce France and Morvan), to R. Morot, P. Gauriat et P. Grando, D. Choquet, JC Gendre (buildings from massif central) and to italian and spanish authors, as well as to D. Ardennes (season parametrization). Special thanks to Fulvio Oddone which has made many Lozere specific buildings, such as the Cros tunnel, with opening doors, and also the De Dion railcar and the LT62 diesel shunter.
TELECHARGEMENT: La ligne de la Lozère est disponible sur le site de Fulvio Oddone (section download/France): / DOWNLOAD: The Lozère route is available on the Fulvio Oddone site (in the download section, sub-section "France"):http://www.odoredifumo.net
La ligne contient 3 activités, dont les 2 SNCF réalisées par P. Daubree / The line contains 3 activities, 2 of thems are for the SNCF part and are made by P. Daubrees
Ci-dessous la plan de la route montrant les extensions apportées dans la V2, / Below the map of the Lozere Route showing extension added for the version 2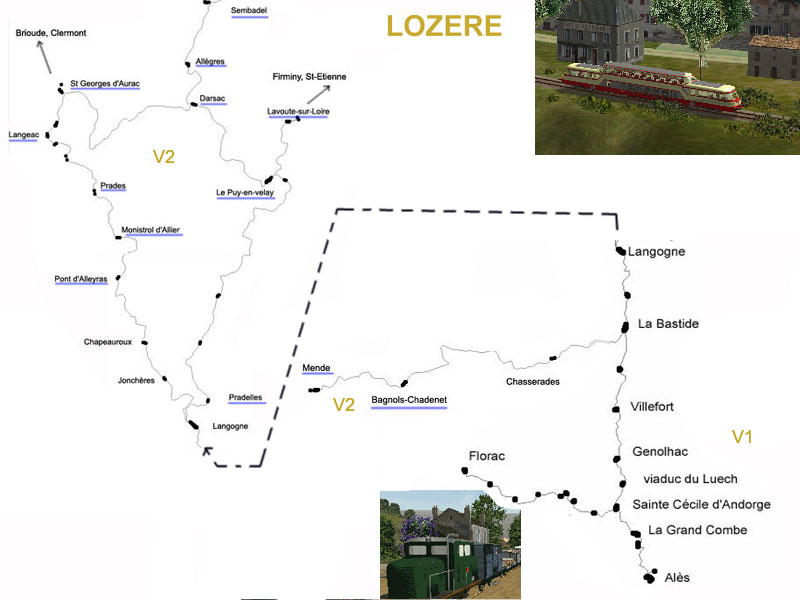 Screens: ici/here
---

Screens Lozère